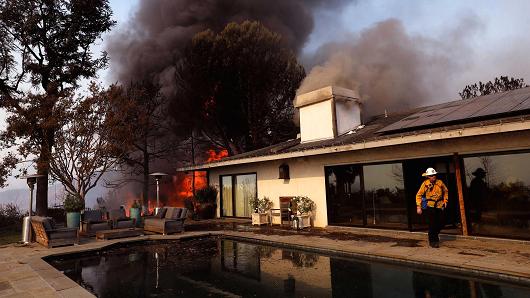 With October's massive wine country wildfires and current monster blazes sweeping Southern California, this year will go down in the record books as one of the most devastating fire seasons ever for insurance losses.
A spokesman for the state's insurance regulator said Thursday that year-to-date losses from the state's fires already top $10 billion. However, a state ballot measure passed decades ago by California voters may save them from massive increases next year in property and casualty insurance rates.
Insurance claims for the October wildfires in Northern California alone now top $9.4 billion, which includes destruction of or damage to more than 21,000 homes and 2,800 businesses, the California State Insurance Commissioner revealed Wednesday. As of Thursday evening, at least 439 structures have been destroyed so far in the Thomas Fire in Ventura County, and that's before the catastrophic losses from other blazes in Los Angeles and San Diego counties.
"These are extraordinary loss figures — $9.4 billion in October alone — and sadly as the fires rage in Southern California we can anticipate that we will see significant losses there as well," California Insurance Commissioner Dave Jones told reporters Wednesday.
It's too early to say what the exact dollar amount of losses is from the current Southern California wildfires since the fires are still raging, but S&P Global Ratings is estimating the October fires alone caused more than $12 billion in losses. Some of the homes that burned or were damaged in the Bel Air fires this week in Los Angeles County include properties costing tens of millions of dollars, while further north the so-called Creek Fire damaged or destroyed at least 30 homes.
"We may experience increases in insurance costs in the future as a result of the fires," said Janet Ruiz, a California-based representative with the Insurance Information Institute.
Ruiz said insurance companies also can decide not to write new policies for homes in areas deemed high risk. She also said they manage risk in areas deemed larger fire risks "so they'll spread it out. A company may feel like they have too much risk in a high-risk area, and they might not renew."
There are also cases where new insurance companies come into high-risk areas because they might be able to get higher premiums. Either way, the existing and new insurers would need to get new rates approved by California's Department of Insurance.
For those insurers that spread risk to reinsurers, experts said, a lot of the impact will depend on whether or how much the reinsurers start rerating. Even before the October wildfires, there already were signs some reinsurers were looking to reduce exposure to the property catastrophe business due to the impacts of hurricanes.
Regardless, a voter measure passed decades ago will present a challenge for insurance companies looking to jack up rates right after the California wildfires.
Proposition 103, approved by California voters in 1988, requires the "prior approval" of the state's insurance regulator before insurance companies can implement property and casualty rates, including homeowner's insurance.
"California has a consumer-friendly approach with Proposition 103, and the insurance industry hates it," said Kenneth Klein, a California Western School of Law professor and expert on natural disasters.
Added Klein, "The insurance industry has been battling that proposition for a long time."
Under Proposition 103 and other California insurance regulations, property and casualty insurance companies cannot take all the losses associated with one event, such as this year's wildfires, and then simply put them onto next year's rates. The state requires a longer-term trend, not a one- or two-year disaster impact.
"California is a state that you can say is a little bit tougher to get rate increases versus other states," said S&P Global Ratings credit analyst Tracy Dolin.
"The insurers cannot take all of the losses associated with a catastrophe like this [year's wildfires] and dump it into next year's rates," said Jones, the insurance commissioner. "Instead, there's a catastrophe factor in the rate, which is a trend that looks back at catastrophes over the last 20 years."
Jones said that means losses this calendar year — whether from the wine country fires or the current wildfires in Southern California — "will be added into that 20-year trend and will have some impact on rates."
He estimated the catastrophes will have a "modest impact" but wouldn't say how much he thought it would be.
"It will not be a dramatic impact," he said.
Jones estimated that his office has saved California consumers and businesses nearly $2.6 billion in premiums since 2011 by rejecting excessive rates or rate increases from insurers.
Without Proposition 103, Klein said, Californians could experience what happened in the Gulf Coast in the wake of 2005's disastrous Hurricane Katrina. He said the industry was able to pass along big increases right after the disaster.
"After Katrina, the insurance industry immediately re-rated on the assumption that a Katrina event would happen the next year, which of course it didn't," Klein said. "As a consequence, I believe that was the single most-profitable year they ever had — the next year."
Nonetheless, Klein said, California's insurance regulators can't ignore the increased wildfire risk in urban areas of the state and will need to work with the insurance companies.
"There's no question that insurance companies are going to have to react to what is apparently a consequence of climate change, which is the increase in the frequency and severity of wildfires and wildfires in urban interfaces," he said. The state's insurance regulator "is already having extended discussions about how they will make sure that the insurance industry remains healthy and robust in this state."